Hellfest was hot, dusty, crowded, packed and loud which kind of summarised France.
I arrived in France after an epic week in Switzerland with two festivals to shoot Longlive in Lyon and Hellfest in Clisson. Longlive Festival was a 2 day indoor metalcore fest featuring the likes of Architects, Every Time I Die, Pierce The Veil, Of Mice & Men and Motionless In White. This was the second time in a few days I had seen Architects and ETID, both were epic! A lot of people used this fest as a bridge between Greenfield and Hellfest. In Lyon I stayed at SLO Living Hostel situated in a busy part of town which was popular with Longlive attendees. At night the back streets turn into a marketplace where you can buy watermelon, 2L soft drink and other necessities. Lyon was a nice city and easy to explore, I hired a bike on the second day and also checked out the public pool. Getting into a public pool in Europe is a strange experience which I don't fully get and they don't allow boardies..? Between Longlive and Hellfest I had a few spare days so decided to head up to the Brittany region. As I checked out of the hostel there was a girl passed out at reception who looked like she was auditioning for the next instalment of The Ring, I enquired if she was dead.
I caught the train from Lyon bound for St Malo where I was exposed to the mayhem of French public transport. Previously all train travel was smooth and easy – France was not. I was hit with reservation fees at the whim of ticket inspectors, late trains, long waits between trains and last minute platform announcements. I finally arrived at St Malo late afternoon in time to drop off my bags at the Fawlty Towers-esque hotel and catch some late afternoon waves. St Malo is a quaint little town on the north French coast with a walled city. It was a good opportunity to chill out, do some laundry and act like a normal tourist for a couple of days. Somehow I had left for two weeks of festivals with only four pair of underpants. At this point I would like to point out how impossible it is to pack for a European festival season with flight restrictions, camping gear along takes up most of your baggage. No one in St Malo seemed to speak English so I mostly had to write notes and speak pigeon. The region is big on kite surfing, each afternoon the beach would resemble a 1990s Wired World Of Sport promo. The days are long, the sun sets over the ocean here just after 10pm.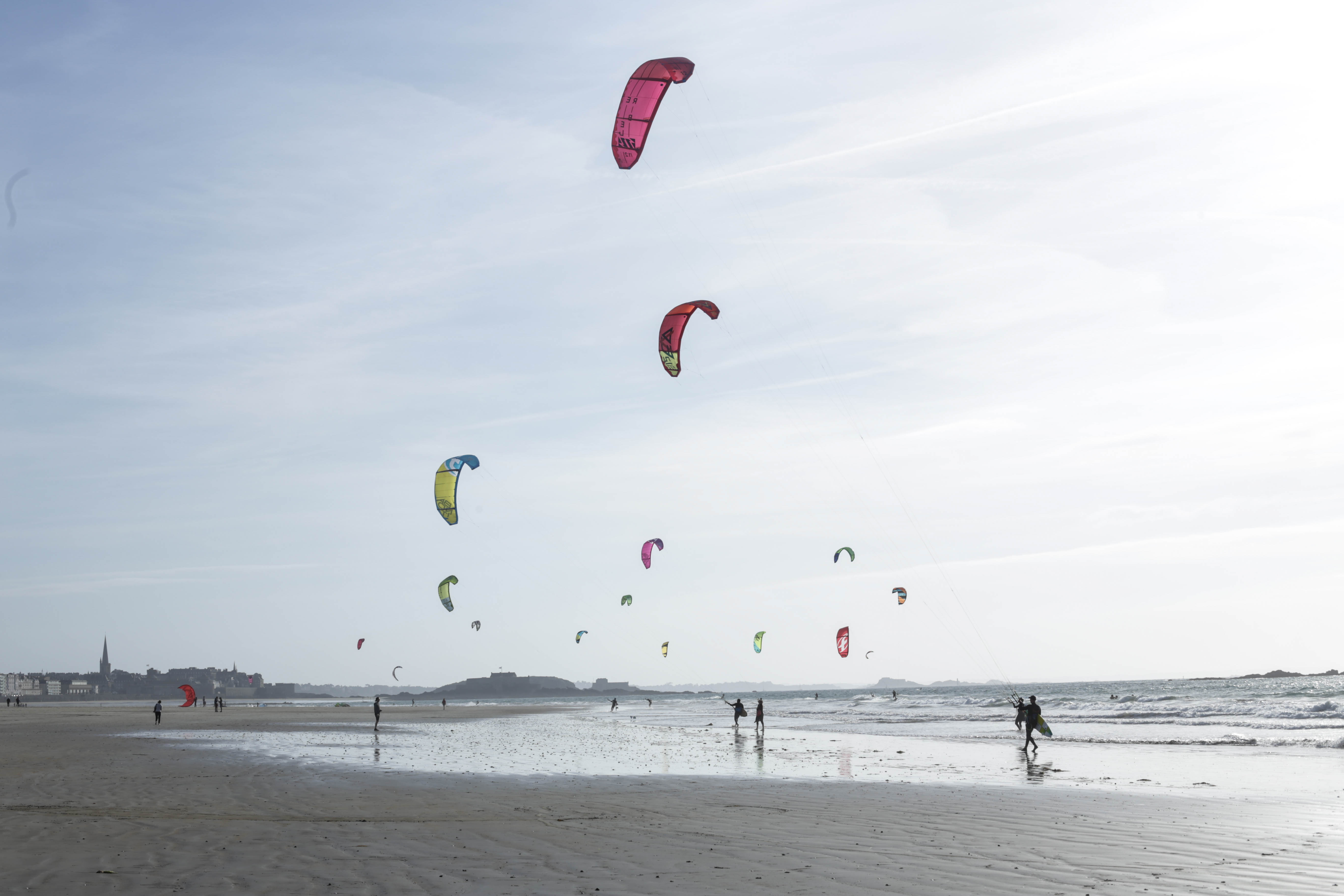 Friday was the first day of Hellfest so I headed for Clisson. Along the way I met a fellow Hellfest attendee who made violins for a living, good guy! When I finally arrived I realised that most punters arrive the day before to find some precious real estate. Having wandered around for an hour I finally found a spot to pitch my tent which hopefully would get some morning shade. With my tent set up I ventured into hell. Hellfest is by far the biggest festival I have ever been to with 180,000 attending which is more than 3 times the biggest BDO year. Resources were stretched to the limit, you had to queue to get water, shower, buy a beer, go to the toilet, you get the picture. As a photographer we even had to queue to get into the pit and shoot bands, often for only one song if at all! So I spent the majority of Hellfest queueing which I pretty much hate. It was also hot at mid 30s every day and dusty – my gear copped a lot of dust but made for some great pit shots. Each morning I walked up a local street and bought some fresh breakfast off the local kids ad oh fuck it was hot, I staggered around through the dust and throng of people trying to remember who I was shooting next. On day two I realised my photo pass got me into VIP which had a pool! It looked pretty dirty but I was desperate so I dunked my head in, as the festival went on the it only got filthier and I saw some bad things happen in there. VIP also had a big screen where you could lie back in the shade and watch the main stage action.
Some of the bands I caught include: Dillinger Escape Plan, Sabaton, Airbourne, Powerwolf, Northlane, Ill Nino, Devin Townsend and Baroness. War Zone was the stage I naturally gravitated to with its small stage and loose crowds. This was the scene of Frank Carter & The Rattlesnakes crushing set, Insanity Alert antics, Loz of While She Sleeps (one of the best performances of the festival) leap off the sound tower and the Every Time I Die stage invasion. Due to a family illness Keith of ETID had to return home, for the rest of their Euro tour a procession of friends would step in and stages were invaded.
As Dillinger closed out Hellfest 2017 I returned to my tent and prepared for an early bump out and journey back to Antwerp. The 9 hour trip back took a shuttle, five trains, 2 hours wait and a 1k walk in Paris. There was also one last massive queue to board the final train and get the hell out of France. Hellfest and France were a mixed bag, not the most comfortable experience but a good one to tick off the list.