Since I just can't get enough of Tasmania I decided to head back down to shoot a rural festival called Party In The Paddock and throw in a quick road trip up the west coast while I'm at it.
Day One – Liffey and Stanley
I landed early in Launceston, grabbed my hire car and headed off. My initial plan was to head straight to Cradle Mountain for some hiking however along the way I impulsively decided to veer off the highway and follow a friends recommendation to check out Liffey Falls. It was supposed to be a short 40kms detour however 20 minutes up the road we hit a dirt track which is not ideal when your hire car imposes an insane excess for unpaved road accidents. As I drove along the road got progressively worse and more remote – but I hate turning back so I pressed on. The end destination was well worth the journey as I took a short walk through a rain forrest to the cascading beauty of Liffey Falls. The drive out wasn't as intense as I popped straight out on the A5 – result!
As my detour managed to chew up half the day I decided to push on to Stanley today and have a full day at Cradle the next. Stanley is a fishing port in the North West corner of Tasmania famous for a volcanic growth on the waterfront called "the nut". You can either climb or catch a chairlift to the top and then wander around. It was strangely serene up there and had some great views.
From Stanley I drove another 160k's to Cradle Mountain via Table Cape. Along the way I nearly ran out of petrol on one of the many winding mountain tracks but pulled into Waratah just in time. In addition to an open petrol station Waratah also has a waterfall right in the middle of town which was actually pretty impressive.
I finally arrived in Cradle Mountain national park as the sun was going down. My accomodation was pretty basic but warm. The only place open nearby was the Peppers Resort bar which serves some tasty meals.
Day Two – Cradle Mountain
I was up early to get into the national park for a day of exploring. Unfortunately the weather was not co-operating and fog rolled in most of the morning. So instead of the hike up Cradle Mountain for no view I opted for the Dove Lake and Marion lookout hikes – even though visibility wasn't great both were nice walks and pretty easy.
After a big break-unch I hit the road and headed for Launceston. For some reason I didn't use my Navman and went a fair way off track but the drive was so scenic I didn't mind. When I did get back on the highway I spotted a hitch hiker. Thinking if I didn't pick him up no one probably would I pulled over. My new mate was French and had some interesting stories of travelling by thumb through Gabon and other such hot spots. Upon arrival I checked into Arthouse Backpackers which I highly recommend and then headed out for some beers.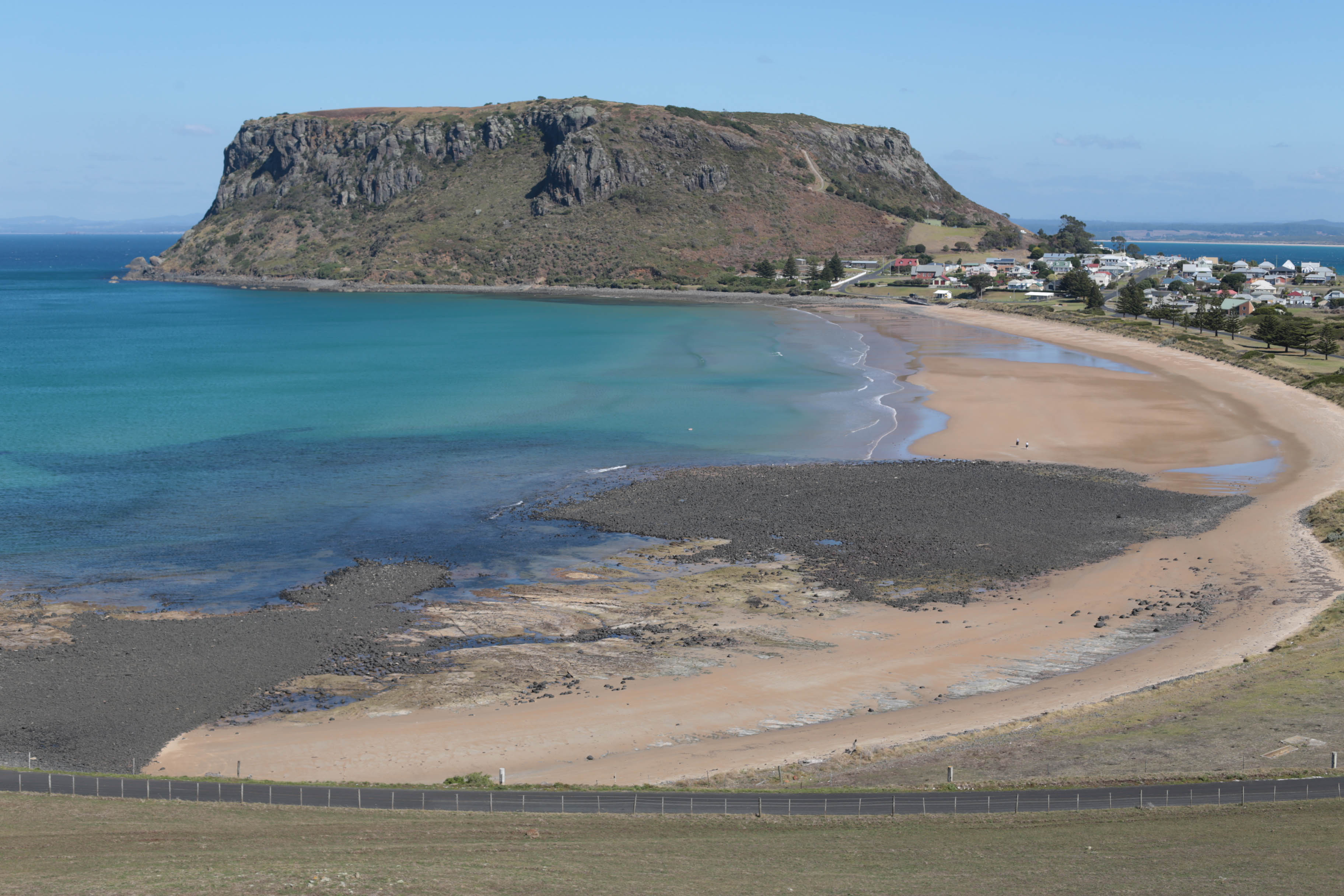 Day Three – PITP
Before I headed to the festival site I visited Cataract Gorge for a swim and chill. Its a pretty amazing spot with a pool right next to the gorge, chairlift running across and a suspension bridge. A great place for a lazy morning.
After some down time I set off for campsite. Party In The Paddock is a short 20mins drive from Launceston in a paddock with a natural sloping amphitheatre and dramatic mountain range as backdrop. If you are looking for a classic rural Australian experience then this is your festival, hay bales line the main stage and it has a real relaxed vibe.
Not long after I arrived day one festivities kicked off. On stage action included Hockey Dad, Ecco Vandal, Harts. sleepmakeswaves put on an epic set combining sound and light show perfectly. Considering their sound is not the mainstream (heavy instrumental) I was impressed that the kids got so into it. The final main stage act was Violent Soho who arrived to a hero's welcome ripping through old and new tunes sending the crowd into a frenzy. From then DJs kicked on till the early hours as I tried in vain to sleep in my light tent and the temperature dropped alarmingly.
Day Four – PITP
The second day of the festival featured Tired Lion, The Bennies, Bad//Dreems, British India, Spiderbait and The Preatures. Following my rule of "it always pays to check out the local bands rule at festivals I followed the metal riffs to the tent stage to check out a local act Uncle Geezer. What followed was half an hour of mayhem, I managed to film some of it which went viral briefly before being banned.
Both British India and Preatures featured members of other bands joining them onstage for covers of classic Aussie tracks. Band of the festival for mine was The Bennies. Their set was one big singalong with a heaving moshpit, wafts of smoke, inflatable rafts and good times.
Having learnt my lesson from the previous night I headed back into Launceston and checked into the hostel for some desperately needed sleep before I flew home on the first flight. I have now covered the East and West coasts of Tasmania both have distinctive landscapes but are still uniquely Tasmania. I still feel there is so much more to explore!
Getting there and around:
Buy a ticket here http://www.partyinthepaddockfestival.com.au/ 2017 is the paddocks 5th year so expect big things!
Grab a cheap Tiger or Jetsar to Launceston and then either a shuttle to the festival or hire a car for a roadtrip as I did! Your PITP ticket includes camping or you can trip in and out of Launceston each day.
If you would like FTP to cover a festival in your corner of the world please email here