It was late one night I got home from a gig and noticed an email from Greenfield Festival in Switzerland to say that I had been accepted to come and shoot their festival. This would be my first Euro fest so I was pretty excited! I decided to add a Belgian side trip in and catch Graspop and Rock Werchter.
Week One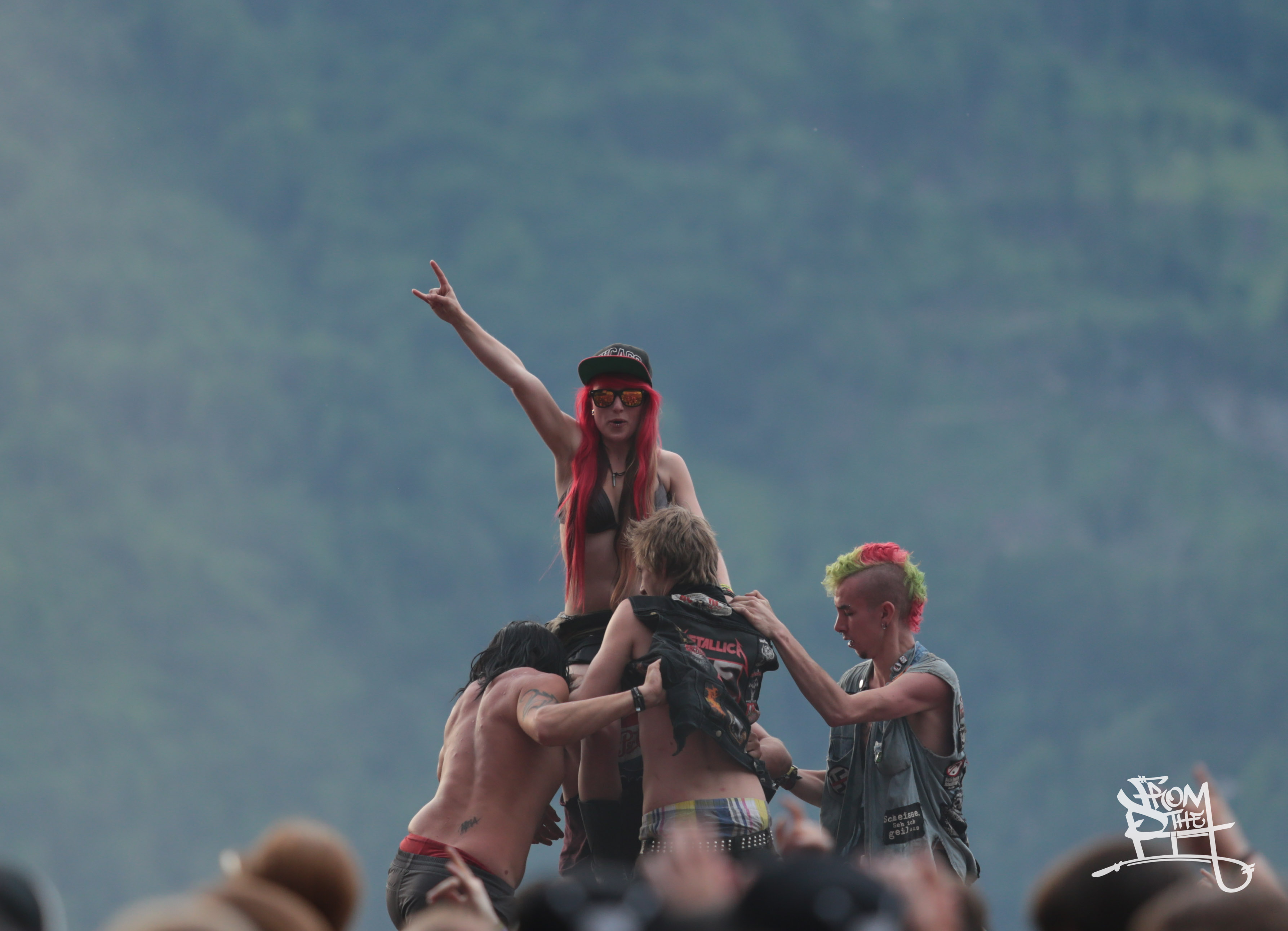 Two days prior to Greenfield kickoff I flew out of Sydney bound for Zurich, after a quick stop in Bangkok and a minor bank account scare I arrived in the Swiss capitol. It was late and sun was still up but I had a big day ahead so I turned in. The next morning I purchased a tent to live in the next three days and then jumped on the train to Interlaken, the scenery was spectacular. As we got nearer more metal head riff raff joined the train with an extraordinary amount of booze (in Australia we are not allowed to bring your own) – there were pallet trolleys and skip bins full.
Soon I was on site and dragging my bag along a river track. The campsite was stunning and close to the festival site across the raging Zurich River. Over the next three days I awoke in the beautiful Swiss alps valley, walked into nearby Bonigen where I would have some quiet time, down some coffee and pastries for breakfast before shooting the likes of Slipknot, Parkway Drive, In Flames, Heaven Shall Burn, Airbourne, The Ghost Inside and Lamb Of God play to 20,000+ metal heads from across Europe. At festivals conclusion the once pristine site looked like a bomb site. I decided to head for a local hostel to check out the area and rest up.
Interlaken is the place to go if you are keen for some adventure sports with a spectacular Swiss background. After filing all my photos for the magazine back home I hired a mountain bike and took on the impending storm riding to nearby Lauterbrunnen. On my first trip to Europe in 1999 we stayed here so it was great to see it again.
Week Two
Having enjoyed my time in the Swiss Alps it was time to go visit my Bavarian friends. I flew from Geneva to Brussels and then caught a train to the small Belgium village of Beveren where my friends Nick and Lien live. Over the next week we rode bikes to nearby towns of Antwerp, Ghent and Bruge. By bike is the best way to see Europe. We experienced Belgium barbeques, pumping "bars", local parties, average coffee and the local way of life.
Upon arriving in Belgium I realised just how many festivals they stage each summer, there were festivals of all genres on every weekend. Graspop is the biggest metal festival on the Belgium calendar and coincided nicely with my trip. I took my non-metal head friend Ben along for day two action which featured In Hearts Wake, In Flames, Body Count and KISS. We found a campsite right up the back squeezed in between hundred of identical tents in the hope we would find it later. The ferris wheel and Body Count mosh pit were an early highlight as was the Belgium Beer Bar which was perfect for viewing the mainstage. Having sampled KISS, beer and too much festival food we called it a night and went in search of our tent.
Next morning we headed back to Beveren for De Reuzen (The Giants) – enormous puppets were taking over Antwerp. It was pretty cool but the crowds were too much for our fuzzy heads.
Week Three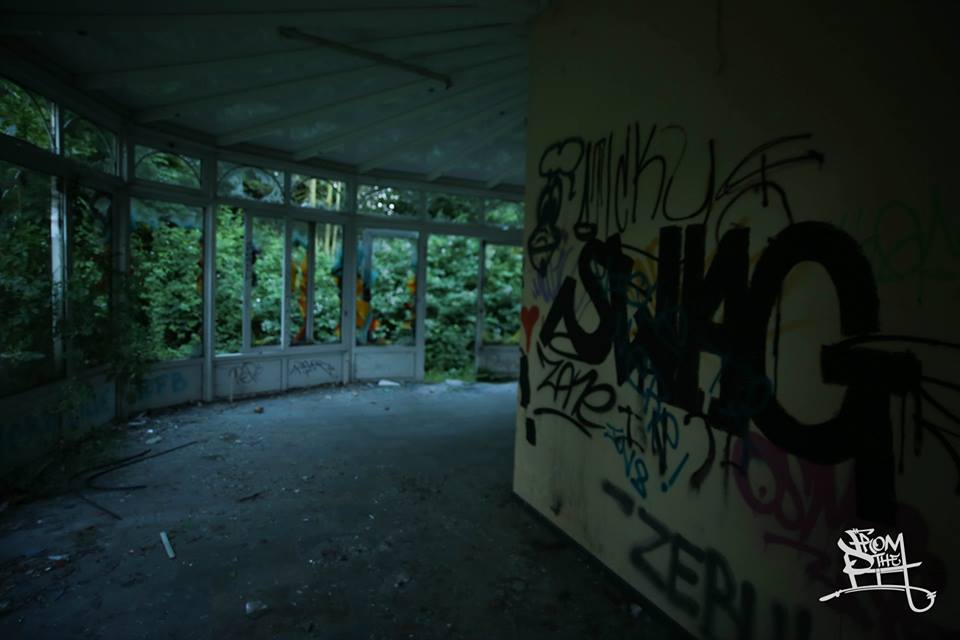 Being a keen urban explorer I was eager to check out the nearby abandoned village of Doel. Doel is a 400 year old village on death row. In 1999 Doel was set aside for flooding to expand the nearby Antwerp harbour. Residents were asked to leave and given compensation, most left some chose to stay. The abandoned buildings have been plastered with some amazing graf art and is the perfect spot for raves.
Amsterdam is only 2 hours away by train so we decided to go see what the red light city had to offer. Unfortunately my travel companion was struck down by Graspop-belly so I did some solo exploring. I hired a bike and checked out the massive central park, red light district and a cool underground club gig.
Upon returning to Belgium I was roped into one more festival – Rock Werchter. Upon arrival we met the massive Belgium team who had already been raging for days. With many local beverages the party was rocking. The size of European festivals, Rock Werchter especially is next level to back home. As the day drew to a close I managed to lose my team and more importantly lift home. After wandering around the roads and paddocks for a few hours I realised I was completely lost and my phone was dead. Eventually I found a security guard who drove me to a train station where I slept the night and caught the first train home. Not a great end but made for a story I guess.
My time in Europe gave me a great taste of the festival circuit and a hunger to be back for more in 2016!
Getting there and around:
Buy tickets here: Greenfield, Graspop, Rock Werchter
I flew direct to Zurich with Swiss Airlines and then Euro trains around Switzerland and Belgium. There are loads of lights in and around Europe which will suit your schedule and budget. All festival tickets include camping, be aware that European festivals often get hit with heavy rain and subsequent mud so grab a waterproof tent and pack the wellies!
Currency: Swiss Franc and Euro
Visa: no
If you would like FTP to cover a festival in your corner of the world please email here