While in Slovenia for Punk Rock Holiday 1.6 I had a chat to Frank McLaughlin and Johnny McKelvey of Sydney Celtic-rock monsters The Rumjacks.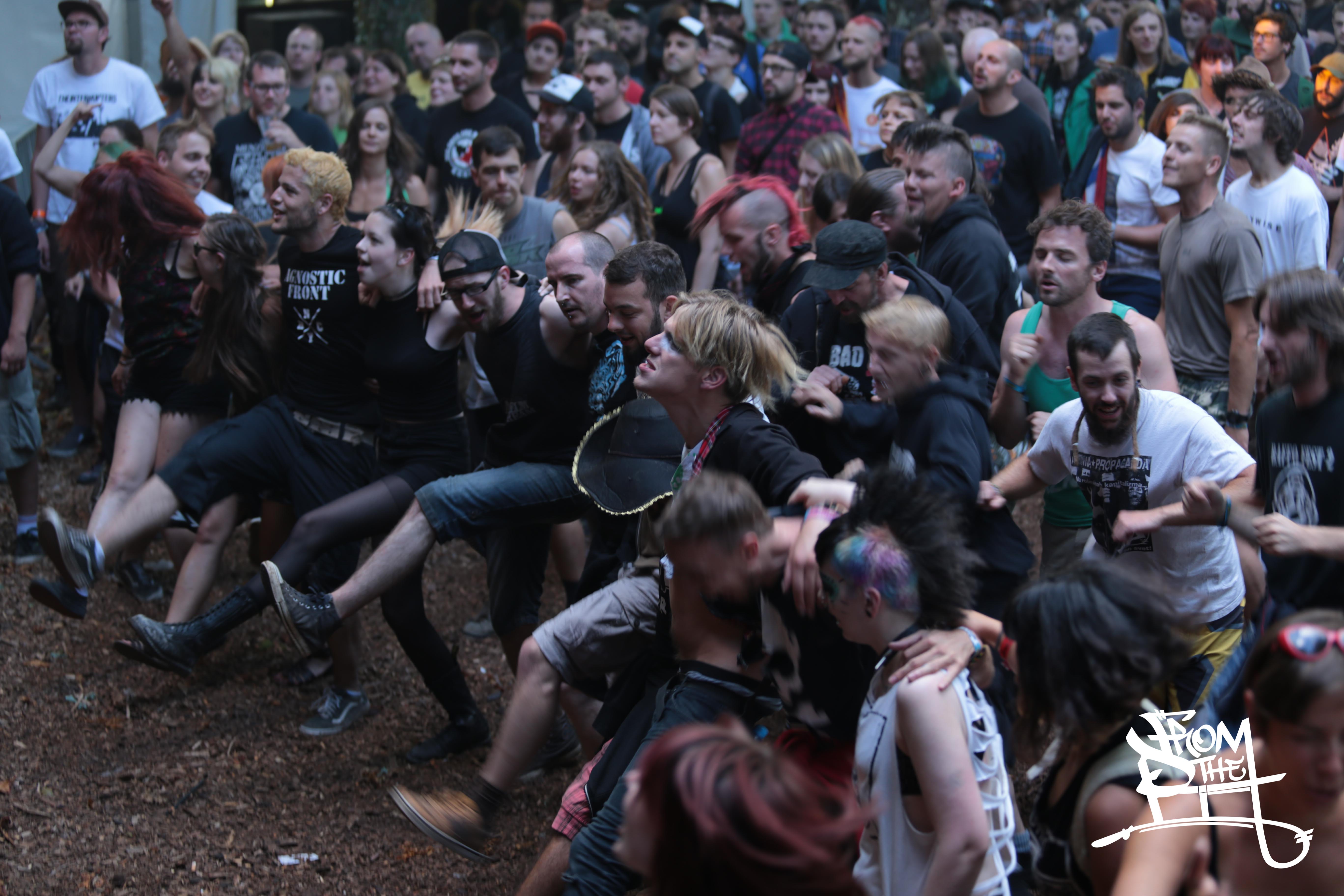 How long you guys been on the road now?
JM: Nearly 5 months in Europe, we come back home then we tour Australia October to February.
Any festivals stand out?
JM: Tonight (pics of Rumjacks at PRH) was one of them, that was pretty wild. There was an amazing one in Poland as well – Woodstock that was amazing.
Yeah I saw that video, huge! 
FM: Huge crowds at that!
The last time I saw you guys was at Marrickville Bowlo and then the next time I see you guys was that Woodstock video..
JM: Oh wow. Does that not represent Australia versus Europe?
FM: We were on that festival on the second stage, within 3 days because of friendly backlash they re-announced us on the main stage. "Thanks for having them but you cant do that to these guys. You have to put them on the main stage." We are very loved in Poland. What happened there the first show of last tour was at Jarocin Festival in Poland – a great punk rock festival, about 20,000 people. It's a fucking great festival, great history. We spent a few days there just being treated like kings and being shown around the place. Just as an indication in the centre of town they have a big Dr. Martens boot as a statue. There is a permanent four-storey museum to the history of punk rock music in the area. Under communism you had to submit your lyrics for every song, the authorities would stamp it if they allowed you to sing it. We went to the place where it first started which is a broken down old amphitheatre in a park and now it's a major festival, owned by the city. The cities mayor sent us a thank you letter and I had a look at the logo – it's a fucking guy with a Mohawk! It's a ginger bread town, its gorgeous as hell, they've got murals fifty, sixty feet high of a kid with a Mohawk sitting with an acoustic guitar in the middle of all these churches and fountains. So they embrace it in a way which is phenomenal! We did a video there for one of our songs "One Summers Day" and they were just blown away. "You guys came and did this, thanks for doing this for our city" We've had this thing with Poland ever since and on the popularity of that when we got announced for Woodstock they said you've got to put them on main stage. The warmth of that festival (Woodstock), completely run by volunteers. Its not about the festival, its about the charity work they do all year, the festival is to thank the volunteers. It's got the police, armed forces, everyone volunteering, there's thousands of them and it's a free festival! The most shining thing – at the end of it they say stand here and then half a million people sing to you a traditional song of thanks. Nobodies ever sung to me before, much less half a million people. So that was a highlight you know.
Have you guys always found that Europe is more accepting?
JM: Yeah from pretty early on to be honest. You can only read so much into online but it's a pretty good indicator. Very early on we would get "hey when gonna come play in Greece" oh yeah that's cute. We wouldn't take it seriously. "When are you going to play in this, when that?" but when there is more and more requests to play in these places we started to think maybe there's more people who listen to us. It took us a while but we did get there, we were here last year and then this year on a five month tour. So we are covering this ground but the comparison between Australia and Europe is enormous, incomparable. Like you said the last time you saw us was Marrickville Bowlo, which is a cool spot. But over here is another world and Europeans like what we do.
FM: Its worth mentioning at this point as well, the reason we played Marrickville Bowling Club is because we have friends there and there were no other gigs to play in Sydney. That was the final show for us after coming back from a triumphant tour of Europe last year like the big wrap up. It was a good show and it rocked on. At the time they had almost been shut down for live music.
JM: Yeah licensing came in about noise and alcohol restrictions. That was before we even played the show.
FM: we just jagged that one, it was basically the only one we could get in Sydney without whoring ourselves to the former Sando where we've got to charge people $20 to get in and then its $12 for a basic mixer. We don't like doing that to our people you know so to play just a good gig, where you can get some good cheap booze and rock on, the Marrickville Bowlo came up and we rocked that one. Its like slim pickings for a band that's apparently doing really fucken well in a country that doesn't give a flying shit about us and you've just got to wait for the day when you become the next Bee Gees and they go "their ours" and you say "oh well, fucken what? What have you done?"
I think a lot of people would be surprised seeing what I saw today.
JM: like you obviously know Violent Soho, but do you know how many other bands are exactly the same as us? Like Airbourne, why would they bother touring Australia? And Deez Nuts half of them are from Melbourne and half from New York so basically they don't waste their time. Which is a terrible thing to say. They play a few shows to keep the fan base happy. But why would you when you can come to play to Europe to 100 times the audience every night and they are singing every word. If you are not Triple J darlings that get on high rotation, no disrespect to Triple J. In rock, metal or alternative if you are not part of that tight 6 that they stick with, you're fucked, you've gotta leave, you've gotta go somewhere else. Cos they wont even give you a fucking wink.
FM: in a lot of ways they are doing us a favour, we are not bitter. They are forcing us to ply our trade elsewhere and that works for us.
JM: it's a much bigger market
I also think your style suits Europe. Last year I shot Greenfield Festival..
FM: we played a lot of festivals like that. In Serbia we played Exit Festival where we were in a moat of a fortress built by the Turkish and up until recently it was still used as a stronghold. They had The Prodigy on one stage, a silent disco next door and we were there as co headline with Anti Flag. We were like fuck look where we are, we're in a fucken moat! This is where we belong!
Yeah so at Greenfield I saw Skinny Lister play and the crowd just went mental. The girls could get right up front and then again today they were more girls jumping off stage during your set than any other bands.
FM: we're not against that!
JM: and that's fine. We completely are fine that some people take our music as novelty. If they get happiness, if they get joy, they walk away happy they don't have to buy a record but if they get something out of it that's cool. We love playing mixed bills, we would prefer to do that. I get that no one in Australia gives a fuck about our music, but when you play with bands who play aggressive music (which we all love) we play a more all inclusive music.
FM: we have a lot families, sons introducing their fathers to our stuff and vice versa. Like in Greece last week we played a wild DIY festival (Los Almiros Festival) where they were letting off flares! There was this gorgeous little 3yo kid with a Mohawk in homemade a Rumjacks T-shirt and its an all inclusive thing. A few days ago I was talking with a friend about a Woody Guthrie song "Way Over Yonder In The Minor Key" about the poetry of it. It was just the idea that it's a great song, you like it when you are younger and as you get older you find another level of poetry in it. Its always been a favourite song, as you get older you find a different layer. I think what we have over here is a wider version of what happens in Australia when you tour regional where they say "thank you for coming to us, no one ever comes to us" there's 50 people in the room and their losing their shit. When we come to festivals or small club shows over here they say "thank you, no big bands ever come to us" it's a more projected version of that and the appreciation is sterling.
So the new album (Sleeping Rough) is coming out..
JM: its come out! Last week, end of August.
FM: I haven't even held one in my hand yet, I got accosted halfway to go the merch tent just so I could hold one by Aussie and Austrian fans who were just losing their shit because they had seen us at other festivals. But yeah it's out now everywhere, our first worldwide release and the reports are good so far.
Thanks for talking to us and see you at the Sydney show!
The Rumjacks have plenty of upcoming Australian dates, check out one near you at www.therumjacks.com/shows