8th May, 2015
It was over a year ago now – I was lying on the couch when my phone went off – I didn't recognise the number.. The conversation went something like this
Ray: "Hey man, it's Ray. You might want to come down to The Captain cook tonight, there's a band playing you want to get some pics of"
Me: "Oh yeah? Who man?"
Ray: "I can tell you but you can't tell anyone"..
Within 10 minutes I had pulled on jeans, bolted out the door, hailed a cab and was on my way firing off a quick text to whomever could make it. What ensued that night goes down in Sydney pub rock history – the night the mighty Green Day came and played at that pub you go to for a cheap steak or before the cricket.
Half an hour before Green Day were maybe going to play and still no one was sure if this thing was really going to happen. Big Ray shrugged his shoulders hopefully as the clock ticked as the pub filled.
"We just installed a new stage, I told the guys put positive vibes out there and something would happen"
The street outside was full of those just too late. Billie Joe had apparently tweeted this thing was happening so just maybe it was true.
And then suddenly Green Day strolled onto stage. Their stage manager tapped me on the shoulder and said "three songs then get out of here". I had my 50mm on which is ideal if you can get back in the pocket, not ideal for staring straight under the bands nostrils. Somehow I held my position and got the shots. As Green Day kicked off the crowd surged and for the next hour and a bit was old school floor board shaking, sweaty body, crowd surfing punk rock.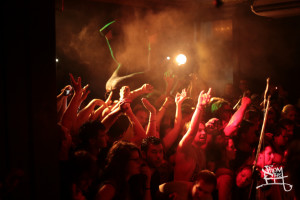 When it was all over the band were whisked out through the bistro and into an awaiting van as the punters chased them up the street. We scratched out sweat soaked heads and wondered what just happened.
You can view the full gallery here: http://fromthepit.com.au/green-day-captain-cook-hotel-22-2-14/