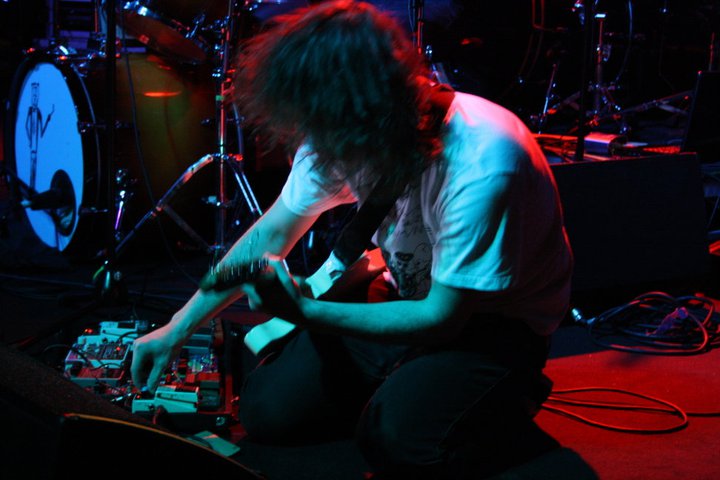 April 22, 2012
How did you guys get together?
I've known Shane since high school in Bundaberg. We both moved to Brisbane and were in a band when we lost our drummer. It all got too hard recruiting new band members so I jumped behind the drums and we became a two piece.
First gig you played?
We started out as a party band, literally playing friends parties so our first gig was at our friend Evans 20th.
First gig at a venue?
We played at a bar at Queensland Uni and got payed $80 each, we actually bolted after as we thought they had overpayed us and would want it back. We'd never been paid that much.
Did you get much of a crowd?
No, not really just some friends.
How did you come up with the DZ Deathrays name?
It was initially a joke, it sounded like a hip-hop posse which we definitely are not. But then it kind of stuck.
Well you know what Dave Grohl says about his bands name and it hasn't stopped them.
Yeah exactly!
Was it actual Jager consumed in "the Mess Up"? How many shots did you guys do?
It was, I don't know how many shots each we did but it ended up being the whole bottle. We didn't expect to get through it, it just sort of happened.
Highlights from your recent overseas tour?
It was all good. We were just blown away by the gigs we were getting and the support, it was unexpected. We got to play New York with "Trust" which was awesome. SXSW was cool, the whole thing with us being shut down for being too loud we could see coming. When they set us up there we were kind of like what do you expect?
You seem to be the current darlings of the UK press (Q Magazines Top 10 Bands of the Great Escape, NME's 4th most exciting new act of 2012). Are you seeing more interest overseas for DZ?
We were seeing that last year, its kind of catching up now back home. It was weird having more notoriety over there where we've played a handful of gigs whereas we have been playing at home non stop for years.
I love the artwork for the new album, how did it come about?
It was shot by photographer Kane Hibbert. He shot us, then he shot some skulls and photoshopped them on. Our original idea was going to cost too much so we'll save that for the next album.
You're described as a party band, what is your idea of a PARTY?
Free booze and live music. But mainly free booze.
You recorded "Bloodstreams" in only two weeks, talk me through the process.
We went up to White Room Studios in the mountains (Mt Nebo) with Neil Coombe, mixing up in the attic. Richard Pike (of PVT fame) flew in to join us and layed down synth on two tracks. We were pretty lucky as we just got through the recording when Shane got hooping cough which he has only just now recovered from. We try not to introduce too many additional elements in recording as we then need to recreate it live.
So whats next for DZ Deathrays?
We kick of an 11 date Australian tour this week, then Europe, America then back to Australia for an August tour. Its kind of scary how few days we have off over the next 3 months but this is what we have always wanted.